Spring is just around the corner! While landlords in the North San Diego or North San Diego County area don't have to worry about snow melt, ice dams, or cleaning up dirt and road salt, there are still many things that you'll need to do to get your property ready for the warmer summer months ahead. Here's a checklist to help you get started.
Perform an Exterior Inspection
While you won't have to deal with snow or ice creating and hiding repair issues in San Diego, the winter months are rainier, and that can take a toll on the upkeep of the outside of your property. It's a good idea to do regular inspections in any case, and Spring is a great time to check this item off the list. Do a complete walk-around of the property and inspect the roof, exterior walls, windows, foundation, and any vents or points where electrical or phone wires connect to the house. Now is the time to look for trouble spots, whether that's loose tiles on the roof, cracking in the foundation, or damaged weather stripping or caulk on a window. It's a good time to wash the exterior, clean windows inside and out, and replace broken screens.
HVAC Systems
Spring is the ideal time to check up on your property's air conditioning unit and ensure that everything is in working order. Clean out any debris that may have settled in, change filters, check connection points or hoses for leaks, and make sure that everything is moving freely and free of dust or dirt. If you've been having trouble with the unit in the past or know that you need to have some repair work done, take care of it now before it gets warm. Don't neglect the furnace either. Coming off of a season of heavier use, this is an ideal time to make sure that no problems developed before you shut off the heat in the summer months. Don't be afraid to hire a professional!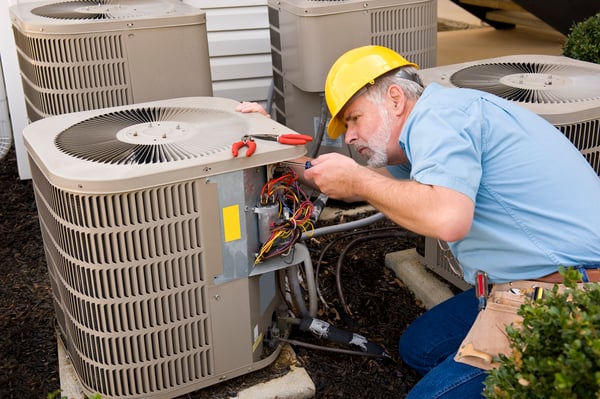 Decks, Porches, and Fences
If the property has a wooden deck or porch (or wooden fencing), Spring is an excellent time to keep up with maintenance on it. Look for boards that are loose or warped, clean up debris, and think about cleaning the surfaces thoroughly. If the finish is starting to wear or fade, the start of the season is a good time to stain and reseal it. If your deck, porch, or fencing is a composite material, follow the manufacturer's guidance for routine care, but don't neglect it. Bring out any outdoor furniture that you've stored away, and make sure that it's clean and ready for use.
Sprinklers and Lawn Care
If your property has a sprinkler system or a relatively large lawn you can take steps now to keep it in good health for the summer. Clear away any branches or debris that might have accumulated in the wetter winter months. Winter can be a time where lawn care gets put on the back-burner and weeds can propagate. Check up on any outdoor water systems - look for leaky valves or broken sprinkler heads - so they'll be ready to go when needed.
Take Care of Your Equipment
Since it's not strictly part of the building, it can be easy to overlook preventative maintenance and inspections on any equipment that you use for lawn care or general maintenance. If you have a lawnmower, now is the time to handle a tune-up of the engine. Drain and replace old gas in the tank, change the oil, and swap out spark plugs and filters. It's a good time to sharpen up any shears and clippers and make sure items such as ladders and hoses will be in good condition for the summer. If you have a grill, this is a great time to clean it out and get it ready for use.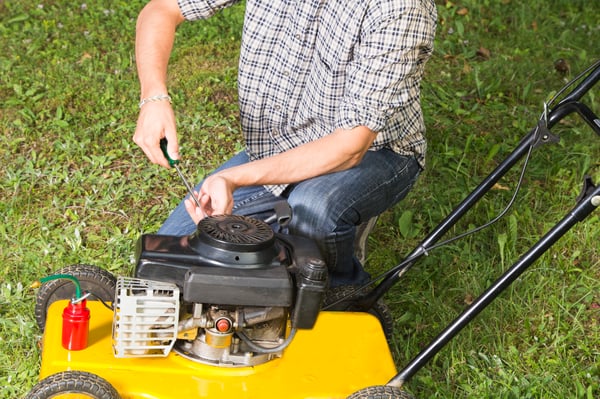 Hire a Property Manager to Help
Routine spring maintenance isn't always difficult, but it can be a lot to have to take care of - especially if you own more than one property and have a limited amount of free time. If you need assistance taking care of things or don't have the skills or tools to do everything on your list, consider hiring a property management company. A North San Diego or North San Diego County property management company can handle the seasonal maintenance that comes along every year like clockwork, whether spring, summer, fall or winter; and they'll be helpful with emergency repairs as well. A property manager can bring a host of other services to the table for you too - such as tenant screening and rent collection. You'll be free to enjoy the summer on your terms.
If you're ready to hand off the responsibility of managing your property, we're here to help. Schedule a free consultation to see if our services match your needs. We'll give you a free rental analysis as well!